Open Air: 7 Outdoor Structures With Democratic Appeal
Take a quick inventory of your favorite outdoor spaces and a common theme will likely become apparent: Outside = Public. While popular public areas are often defined spatially as voids, it is much less frequent that built forms can be described as truly public.
This is a collection of outdoor, open-air structures intended for the benefit of anyone and everyone. Each project possesses overtones of inclusiveness, access and communal gathering, regardless of location. These projects have found prominent space in parks, neglected space around giant infrastructure and practical space on the edges of villages and towns. Their functions vary greatly, from the goals of universally accessible knowledge to civic services and entertainment, but they all share a basic objective: they are open to everyone. These are structures that give people a reason to gather together, and by their very nature encourage interaction between friends and strangers, locals and visitors, mainstays and newcomers.
The contexts where these projects live range in scale from village to metropolis, and they span the globe from North America to Europe and Asia. This cross-cultural, far-flung selection illustrates an innate human need to get together, outside, for the sharing of resources, information and, possibly most important, experiences.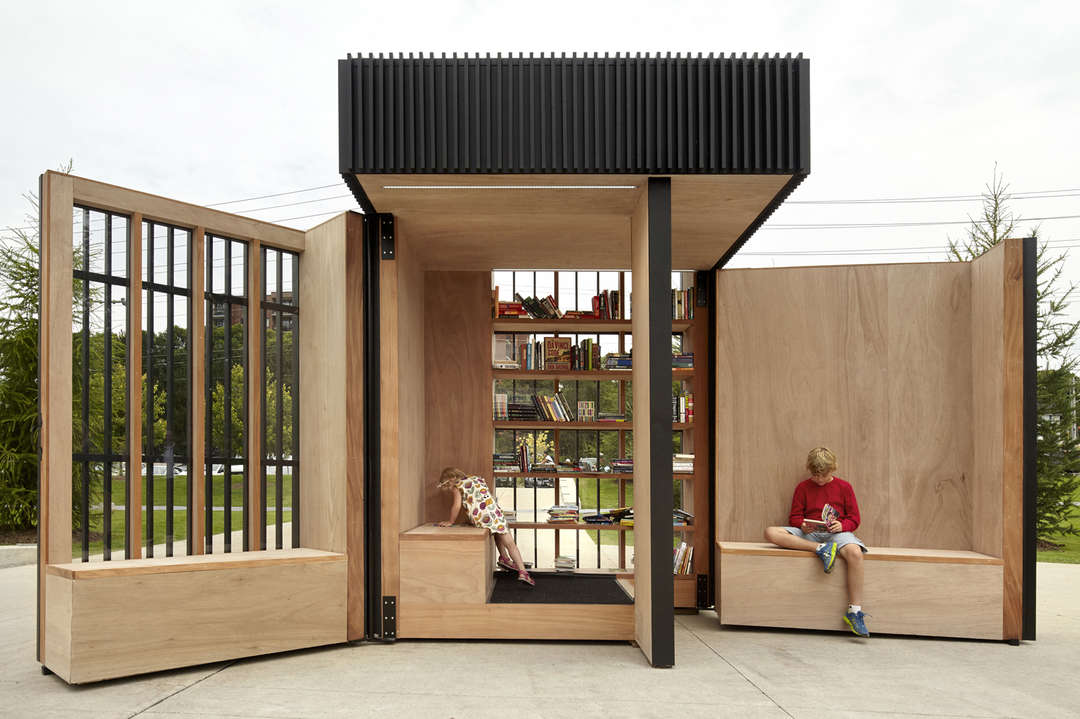 Story Pod by Atelier Kastelic Buffey, Newmarket, Canada
This small, portable wooden structure was commissioned for a public square in Newmarket, Ontario, to serve as a community-supported lending library. It folds open during the day to provide seating and shelving, and is easily folded into a closed position at night.
Community Green Station by Architectural Services Department, Hong Kong
The space underneath a highway overpass, which had previously divided two neighborhoods, was appropriated here as a collection point for recyclables from residents on both sides. Extending its function to also include space for exhibitions, education and recreation, the Community Green Station draws on a variety of uses and services to strengthen a valuable benefit for the area — mobility, safety and ease of access between city districts.
Hunspach Village Hall by Heintz-Kehr and Associates, Hunspach, France
Located at the entrance to the village of Hunspach, France, this community hall features a large outdoor terrace used for activities in the summertime such as musical performances and dancing. Accessible to the building's interior through large, sliding glass panels, this terrace is a primary feature for the center of community life in the village.
Music Pavillion Bad Ischl by Two in a Box Architekten, Bad Ischl, Austria
The town of Bad Ischl in Austria gained this music pavilion in 2014. Situated adjacent to a large indoor theater, the pavilion provides an informal, casual setting for public performances.
Cozinha Comunitária das Terras da Costa by Colectivo Warehouse, Costa da Caparica, Portugal
Meaning "Community Kitchen" in Portuguese, this wood-frame structure serves as a vital utility for an informal settlement on the outskirts of Costa da Caparica. Designed and built with full participation of the local population, this structure provides running water and public dining space for the community.
Ribeiro do Matadouro by Oh!LAND studio, Santo Tirso, Portugal
This bright, serpentine structure wends its way through a new park in Santo Tirso, Portugal, functioning simultaneously as sculpture, shelter, way-finding and equipment. Besides delineating a major path through the park, it also features integrated seating, trash bins, electrical outlets, multimedia equipment and informative signage educating its users about the park's vegetative make-up, imparting a lesson in local urban ecology.
Reception Hut by blipsz architecture, Tomești, Romania
This outdoor community hall is located on the edge of a village in Romania, next to a public bath. Equipped with a kitchen behind its primary meeting space, the hut is intended for organized or impromptu meetings and events, and its open-air accessibility makes it available around-the-clock for anyone who wishes to use it.