Australia's Finest: 7 Timber-Clad Bungalows Along the Sunshine Coast
Australia's Sunshine Coast is a pristine landscape lined with unbroken beaches and rolling hills. Stretching 62 miles from King's Beach in Caloundra to Cooloola's rainbow sands in the north, the region includes incredible rivers and lakes, as well as the Glass House Mountains. Among Queensland's highest concentration of national parks, the Sunshine Coast is also home to dynamic residential architecture. Spread across the hinterland and coastal zones, these residences are representative of a sensitive and multicultural design language that's uniquely Australian. Building off the continent-nation's vernacular architecture and building traditions, these modern abodes combine environmentally conscious design strategies with simple and straightforward material assemblies.
The following collection takes a closer look at timber construction and cladding through various residences along the coast. While there's a long history of wooden architecture in the Australian vernacular, from sheds and barns to aboriginal huts, contemporary projects are using timber to form hybrid spaces and envelopes which merge different styles. Sited atop mountains and overlooking expansive vistas, the houses use clean lines and sharp angles to articulate transition and define interior and exterior space. The projects make use of screened envelopes and intentional building orientations to capitalize on the subtropical climate and embrace the surrounding landscape. See for yourself with these modern timber bungalows along the Sunshine Coast.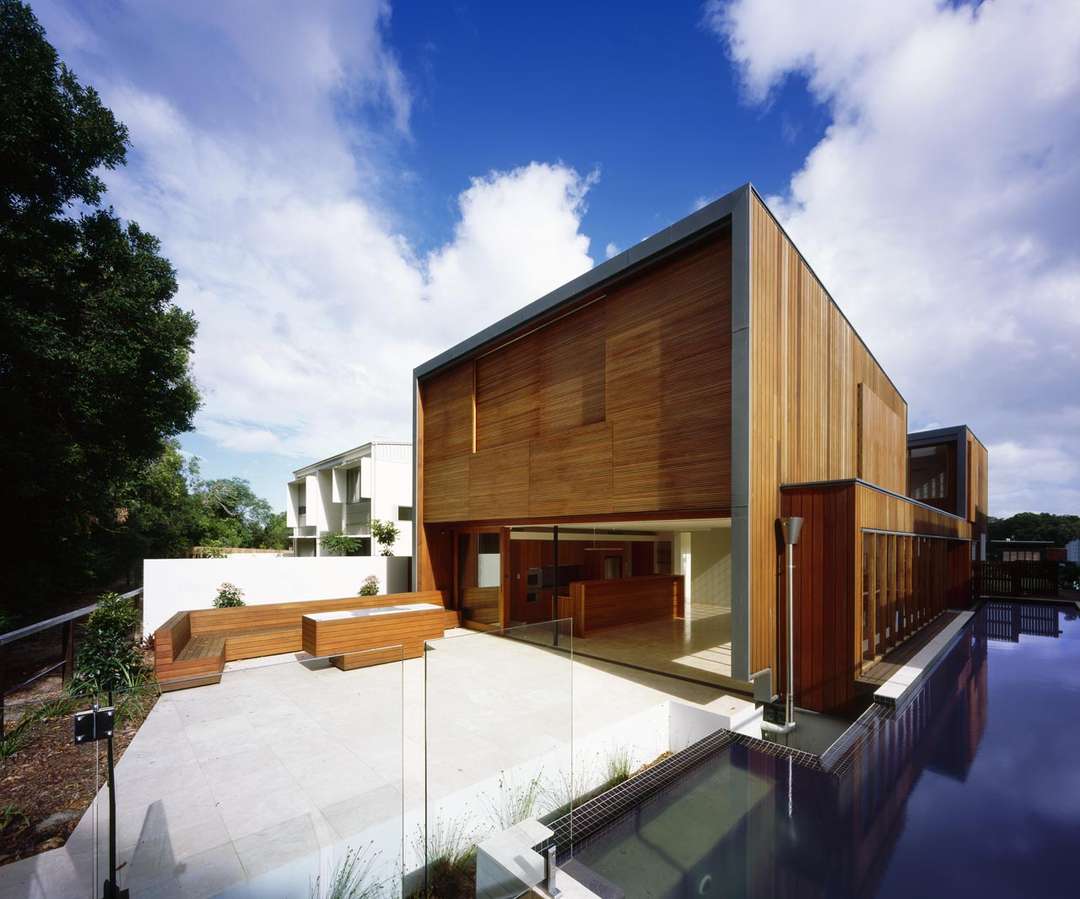 Elysium Lot 176 by Richard Kirk Architect, Sunshine Coast, Australia
Designed as part of a boutique housing subdivision along the Sunshine Coast, this project is a prototype for future development. Sited on a ridge overlooking a golf course and landscape beyond, the residence was designed as a two-story volume with a carved-out center. Seamless transitions, weathering materials, and horizontal timber members combine to screen the building and create a subtle change in texture.
Honeydew Residence by Sparks Architects, Sunshine Coast, Australia
Exploring the possibilities of sustainable living, the Honeydew residence was located along Mount Ninderry on a steep site overlooking Noosa North Shore. Taking advantage of the winter sun and northerly views, the linear building was made with a single room's width throughout.
Whyatt House by Robinson Architects, Robina, Australia
Located on the Sunshine Coast in rural Doonan, the Whyatt House was designed for a family with an interest in Australian bush architecture. Using a prefabricated steel frame and conventional timber, the project was organized as two distinct wings.
Boarding House by Shaun Lockyer Architects, Brisbane, Australia
Drawing together five 'boarding rooms' within a pre-war house, this unique residential project was made for a large family. Located in Newstead, just south of the Sunshine Coast, this renovation balances the old and the new while opening up to the outdoors.
Lot 170 by Richard Kirk Architect, Sunshine Coast, Australia
Crafted with standardized materials and details to help control construction quality, this residential project occupies the majority of the allowable building space onsite. Interior spaces were designed with an introspective focus, both functionally and visually. Timber was selected along the exterior that could weather naturally, while finishes were kept to a minimum.
Wallaby Lane House and Studio by Robinson Architects, Tinbeerwah, Australia
Created for a family relocating from Sydney, the Wallaby Lane House and Studio is located on a rural site in Tinbeerwah. The house's two dwellings were designed at a high point in the landscape and follow the natural contours. The compact layout was oriented to the north to maximize cross ventilation and views to Cooroy Mountain.
Maleny House by Bark Design Architects, Sunshine Coast, Australia
The Manley House was designed as a residence straddling the mountainside. Perched atop a rim overlooking an impressive landscape below, the house is anchored to its surroundings while keeping a sense of transparency and lightness. Timber was used to reinforce the design's lightweight character and balance the stone wall that grounds the project to the hillside.