Transforming Transport: 8 Modern Tram Stops Across Europe
Public transportation has come to define modern cities. Between a demand for more efficient transportation options and better operations management, metropolises across the world are looking for novel transport solutions. Connecting mixed-use neighborhoods, civic institutions and businesses alike, new transportation systems can help foster increased density and bolster economic development. With some places investing in public transportation for the first time, developers are looking towards precedent cities with long-standing infrastructure in place. Planners and designers have also begun exploring groundbreaking new transport systems, ideas readily found in dense cities across Europe.
While a diverse variety of public transportation options are available, one of the most prevalent transport options is the tram. Essentially rail vehicles that run along urban streets, trams are often connected to electric lines and are usually lighter and shorter than conventional trains. Today, trams are usually made with an overhead pantograph to collect power. Taking a closer look at tram stops and this unique typology, the following collection draws together tram projects from across Europe. These innovative precedents explore the diverse formal and spatial organizations being created for stops in six different countries. Varied in program and context, the designs showcase how designers have begun to rethink how we can better connect our cities.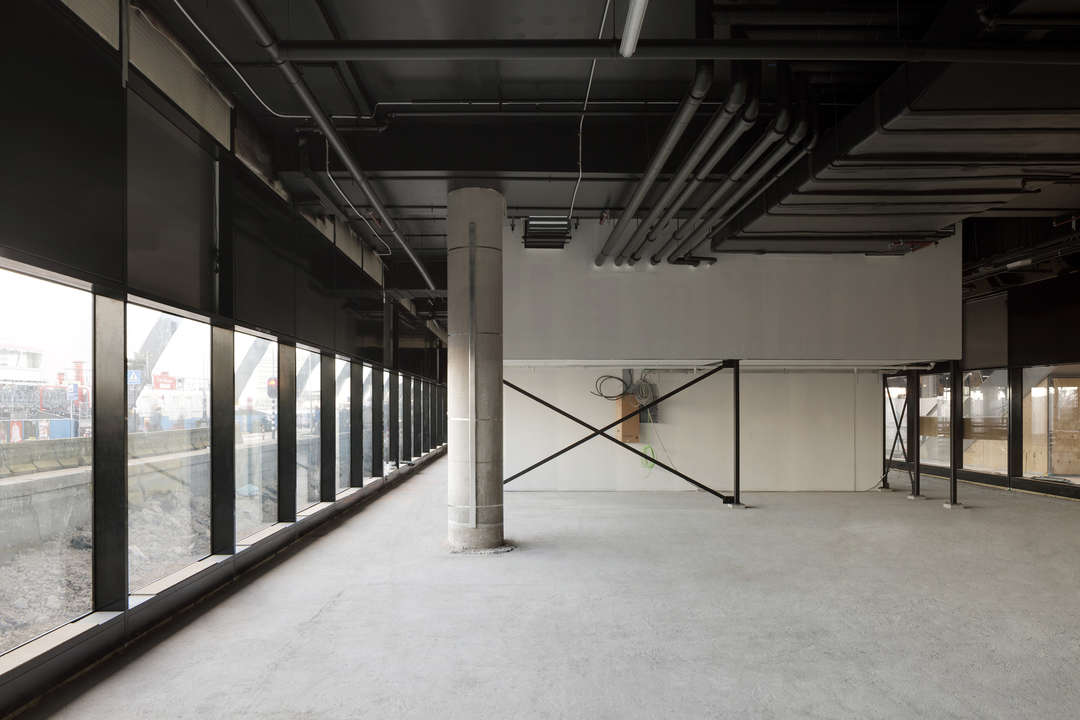 The IJhal by Wiel Arets Architects, Amsterdam, Netherlands
The IJhal is being created as the main pedestrian gateway within Amsterdam's Centraal Station. The point where multiple transportation lines converge, the project will include areas that accept visitors traveling by bus, metro, train and tram.
Limmatplatz Tramway Station by Baumann Roserens Architekten, Zürich, Switzerland
Limmatplatz Tramway Station was created around transportation lines and various natural elements on site. Completed in 2007, the project uses a single curvilinear roof form to envelope different kiosks and glass pavilions below.
Centre de Maintenance du Tramway by Séquences, Blagnac, France
Built for multiple tram lines, this maintenance center was created for optimized flow through a clear composition. Created with visually soft materials, the design includes stamped concrete and golden siding that combines to define the building envelope.
Tram Stop Europaplatz, Berlin Main Train Station by schlaich bergermann partner, Berlin, Germany
Designed as a new tram stop in Berlin Europaplatz, this project was created around comfort and efficiency. Built with a thin curved shell roof, the stop includes escalator shafts, steel supports and glass walls.
Graz Main Station Local Transport Hub by Zechner & Zechner, Graz, Austria
The Local Transport Hub at Graz Main Station was created over the course of two years to mark the center of a plaza space and where four tram lines converge. The design opens to the sky above and features covered seating areas.
Tram- and Bus station in Munich by prpm Perret Maluche Stuke, Leopoldstraße, Olching, Germany
Created as a tram and bus station stop in Munich, this unique projects features a comprehensive roof form that opens up to delicate columns below. These columns split to reflect a lime-green interior and provide additional lighting for the station.
Public transport node Voorburg by Posad spatial strategies, Voorburg, Netherlands
Designed as a new transportation station near Voorburg, this tram project connects the area of the Binckhorst with the historic Voorburg center. The project was made with many different elements, including pedestrian bridges, bus areas, gardens and a tram stop.
Tram Stop in Alicante by Subarquitectura, Alacante, Spain
The Alicante tram station is located along a new line that connects Spanish coastal towns from Denia to Ibiza. Linking the residential zone of San Juan Beach to the city center, this stop transformed a traffic circle into a public space.