Daniel Libeskind Reveals Renderings for the Kurdistan Museum in Erbil, Iraq
Yesterday, Daniel Libeskind unveiled plans for the Kurdistan Museum, a cultural center that will celebrate the history of the Kurdish people. The 150,000-square-foot museum is to be built in Erbil, Iraq, the capital of Iraqi Kurdistan.
Kurdistan is a loosely defined geographical area in the heart of the Middle East that includes the self-governing region of Iraqi Kurdistan as well as bordering areas in Turkey, Iran and Syria. It is marked by the majority presence of the Kurdish people, an ethnic group united by language, culture, geography and history. While Kurdistan may not have definite political boundaries, it is certainly a nation in spirit, a fact that Libeskind hopes his museum will convey.
"The museum aims to convey the spirit of the Kurdish people, their rich culture and the future of Kurdistan," said Daniel Libeskind. "The design had to navigate between two extreme emotions: sadness and tragedy, through the weight of history, and of joy and hope, as the nation looks to the future."
Like Libeskind's famous Jewish museum in Berlin, the Kurdistan museum is a building that aims to tell a story through its very design elements. Working with the Kurdish Regional Government and RWF World, Libeskind took care to design a building that speaks to the Kurdish people.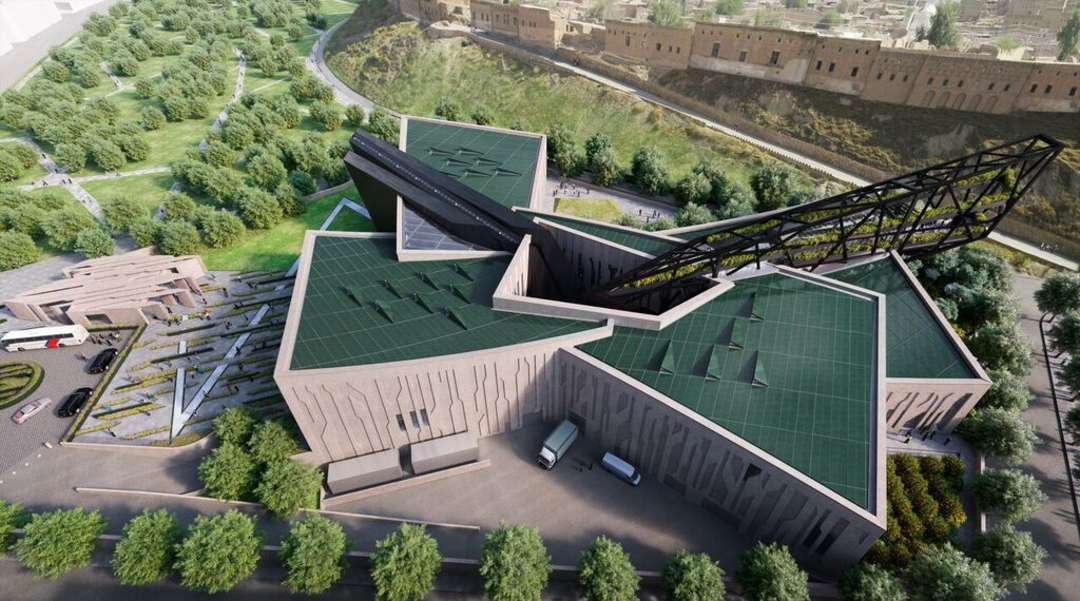 "The form of the museum is created by four interlocking geometric volumes that represent the Kurdish regions: Turkey, Syria, Iran and Iraq," representatives of Studio Libeskind explained in a statement. "The volumes are intersected by a line that is broken into two angular fragments, representing the past and future of Kurdistan. The two fragments create an emotive duality: a heavy and opaque mass, the Anfal Line, which symbolizes the genocide under Saddam Hussein; and the Liberty Line, a lattice structure filled with greenery that ascends towards the sky and culminates with an eternal flame — a powerful symbol in Kurdish culture."
The museum will serve as both an archive of Kurdish history and a living space for public use. It will include both permanent and temporary exhibition spaces, a lecture theater, multimedia resources and a massive digital archive of Kurdish historical assets. In addition, the scheme includes a community center and spacious courtyards. A water feature evocative of rivers will run through the museum, connecting the structure to the outdoor public space. The museum's prominent location — at the base of Erbil's ancient Citadel — ensures it will occupy a central role in Kurdish cultural life.
Currently, Kurdish forces are embroiled in the fight against ISIS, a conflict that has put a large strain on the Kurdish Regional Government's human and financial resources. Because of this, Libeskind and the Kurdish Regional Government are seeking outside financial backing for the project, which they hope to begin working on as soon as the political situation in the region stabilizes.