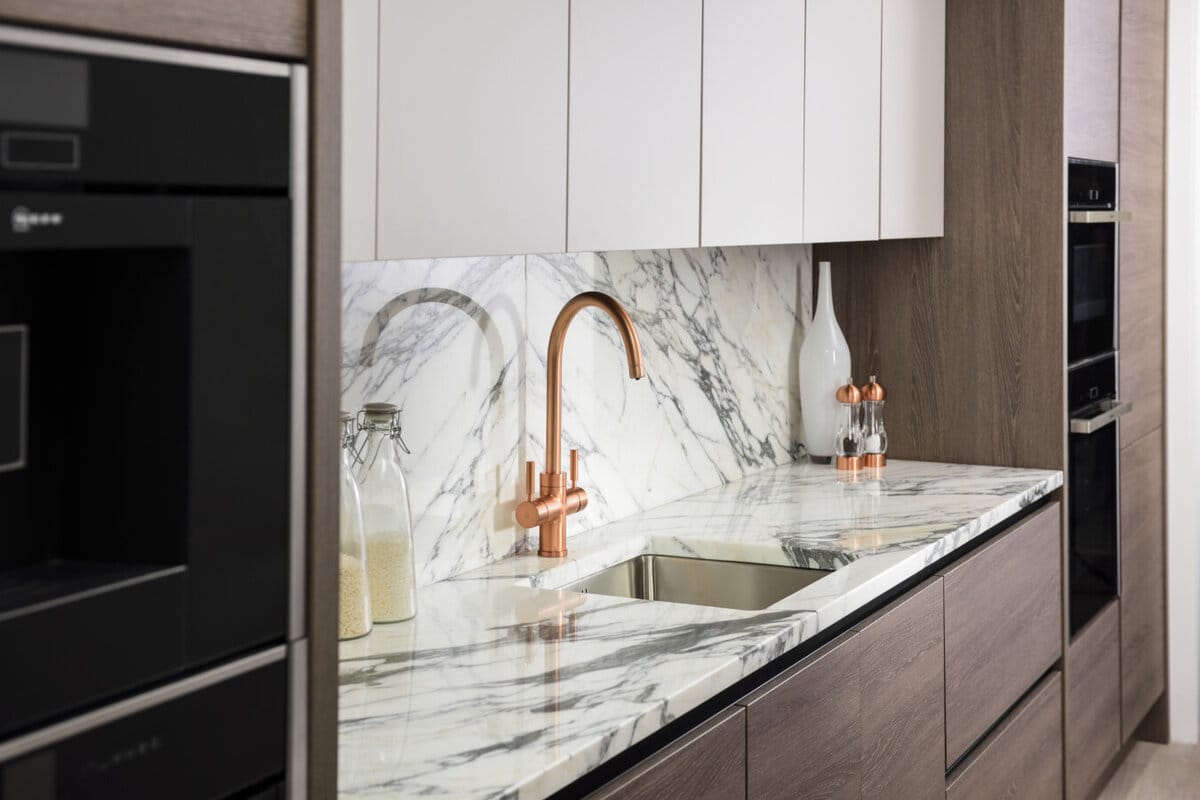 As more and more consumers appreciate the importance of investing in sustainable products, the eco design sector will only grow, and early adapters will be ahead of the curve when it comes to supporting and guiding their customers design ideas and product choices. Being more sensitive to the environment with factors like conserving energy, saving water and even reducing waste at home, are now encouraging consumers to reduce, reuse and recycle, and this is opening the door to new, greener tap designs in the mainstream.
Helping to save water and ultimately future-proof the home by limiting water consumption, Abode is pleased to introduce the launch of its new Flow Limited Tap Collection: a range of water-efficient taps, which use up to 97% less water per minute thanks to the specially designed flow-limited aerators that reduce the flow rate, but not the pressure!
Paul Illingworth, Design Manager at Abode says, "As conservation measures continue to influence both residential and contract interiors, we feel it's the right time to introduce a ready to order range of Flow Limited Taps for the development sector to better serve the UK homeowner. We are finding that designed-in sustainability is a big topic right now and given the energy price cap from 1 April, the trend to reduce energy is running in parallel with water-use efficiency. Eco laundry appliances, water-saving showers and toilets, and a range of specialist kitchen taps are now a major priority for the UK homeowner, offering their own green rewards like reduced carbon footprint, energy and waste. The development market is therefore in a prime position to offer tangible benefits to the buyer by choosing sustainable products at the design and build phase, which in the long run, will lower energy consumption and help reduce utility bills for each occupant."
All kitchen taps in the new Flow Limited Collection by Abode are available now on workable lead-times, WRAS Approved and delivered pre-assembled with 5lpm aerators to limit water flow rate. Contemporary and distinct, models include Pico Swan AT1226, Pico Quad AT2134, Globe AT2146, Althia AT1258, Quantic AT2070 and New Media AT1180 mixer taps, plus Pronteau Prostyle and Pronteau Prostream 3 IN 1 Steaming hot water taps, which provide hot, cold and filtered 98° steaming hot water on demand.
Aside from Chrome, other finishes and flow limitation levels are available on request but subject to extended lead times. Customers can special order one of the new Flow Limited tap designs in Chrome and it will be on site within 8 weeks of purchase with other finishes up to 12 weeks.
Leanne Adamson, Marketing Manager at Abode says, "In anticipation of the Government's Future Home Standard, where homes and businesses will have to meet rigorous new energy efficiency standards to lower energy consumption by 2025, we are proud to offer six of our most popular mixer tap designs for the modern kitchen, alongside two of our Pronteau steaming hot taps. Doing our bit to help deliver greener homes and buildings nationwide, every component of our flow-limited taps has been extensively tested to meet exacting standards and withstand the added stress that flow restriction creates. Our new water-saving collection is outlined in the newly released Sink & Tap Specification Manual, specially curated for the luxury development market where the Flow-Limited Collection sits alongside Pronteau, and our premium range of designer sinks and taps also by Abode."
Up and down the country, premium manufacturers are refining their specialisms to attract more discerning end users at all levels of the market and as customer expectations rise, so is the level of product innovation and services being offered in the mainstream: inspiring new form and function in the marketplace that is sensitive to the customer, home and planet. The development of the new Flow Limited Tap Collection by Abode, is testament to the company's investment in new product design and development, delivering the very best in design-led, sustainable solutions across the UK property market to support the next generation of buyers who want a 'house of the future'.
For further info, please contact Abode:
t 01226 283 434 | e [email protected] | w www.abodedesigns.co.uk