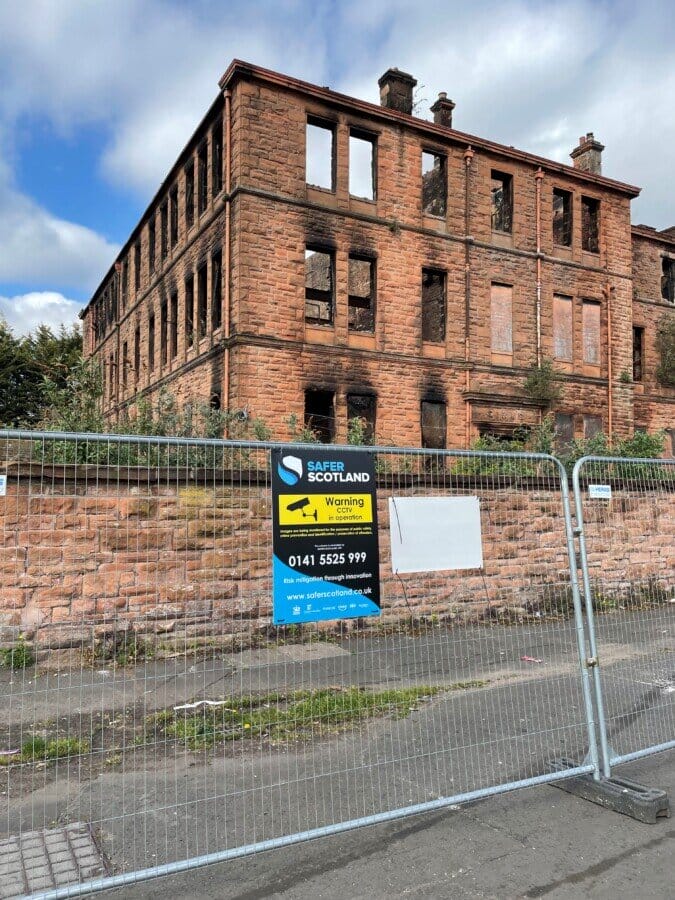 Safer Scotland, the relentlessly innovative security sector specialist, which is transforming the security sector, underlined its rapid response capability this week when a devastating fire broke out in a notable derelict building late on Friday night (22 April 2022) in Glasgow's East End.
The fire, at Bernard Terrace, off Queen Mary Street in the Bridgeton district of the city, saw twelve fire engines, including three height appliances, deployed by The Scottish Fire and Rescue Service which battled the blaze until Saturday morning. Fortunately, no casualties were reported and enquiries are continuing to establish the cause of the fire.
Alerted to the incident in the early hours of Saturday morning, the Safer Scotland team swung into action with the company's managing director, Phil Bunting, present on the site within the hour to conduct a risk assessment and to co-ordinate full safety and security measures.
Shortly after the fire service departed the site and the blaze site was sealed-off, mobile security guarding was put in place to ensure the safety of the local community.
Safer Scotland's new, high-tech PODS which provide cutting edge CCTV tower systems to monitor intruder access to vulnerable sites are currently being installed.
Phil Bunting said: "Rapid action to secure sites and make them safe lies at the heart of our commitment to customers. Here we reacted instantaneously to a call from the property's stakeholders and had a plan in place within the hour to ensure the safety of the community and the integrity of the site.
"In what is becoming an all too familiar occurrence, proven security companies such as Safer Scotland are being called in to secure the remains of yet another historic building destroyed by what might well prove to be arson.
"We think enough is enough and believe our offer to support government and local authorities with security measures to protect Scotland's historic buildings before they fall victim to arsonists should be taken up more widely."
Safer Scotland, part of the Safer Security Group, has been employed on hundreds of flagship projects for construction, civil engineering, and housing developers across Scotland and the rest of the United Kingdom, as well as in sectors such as highways, void property protection, property management services and utility infrastructure protection.
It also provides security guards, key holding and other risk mitigation services.