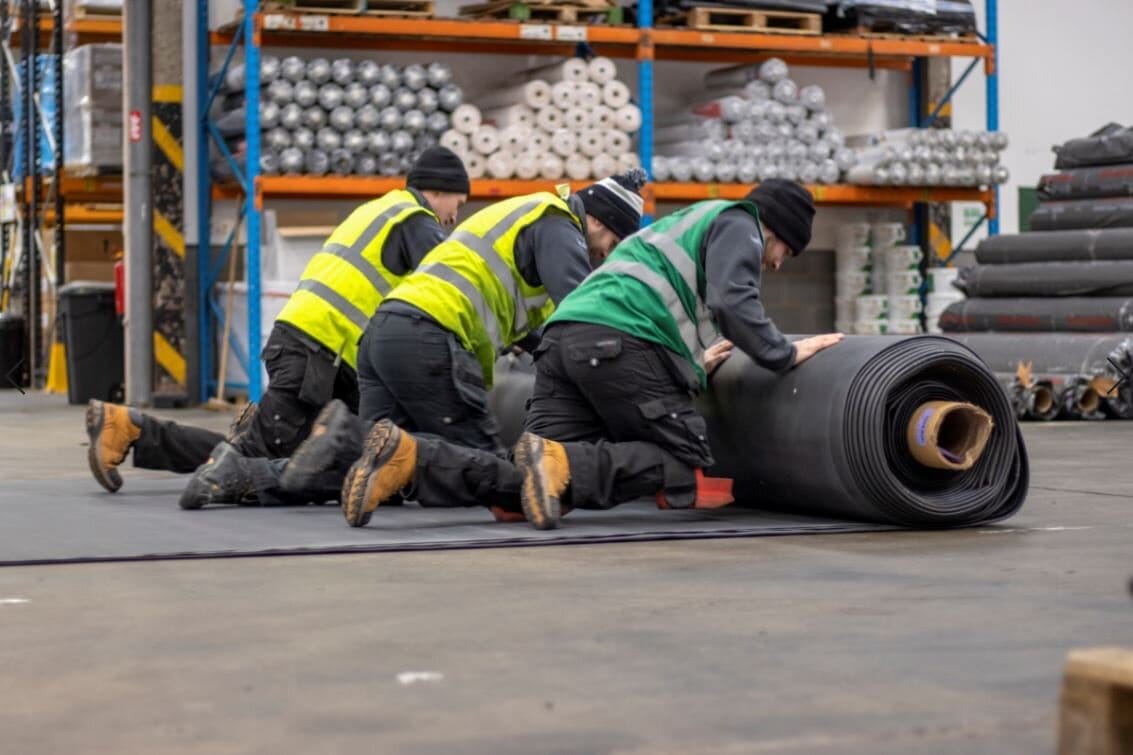 With new innovations constantly coming to market, contractors are forced to navigate an abundance of flat roofing products before each installation. Adrian Buttress, managing director of EPDM rubber roofing specialists Permaroof, discusses how to choose the right solution to ensure a high-quality result each time.
The flat roofing market has seen plenty of change with ever-evolving products across torch-on or EPDM rubber ruffing.
This constant flurry of products coming to market means it is no surprise contractors can feel like they are faced with a complex decision every time they visit the trade counter.
While many will have a favourite product they have used for years and are comfortable with, this can mean they are keeping to what are now outdated methods and have less exposure to innovations that could save them time and deliver better results.
Avoid cross-using products
This vast product choice – alongside the relative lack of associated education – is something I see as a real issue for the industry and one that does us no favours in terms of offering a consistent and quality service.
Having started 'on the tools' myself, I see cross-usage of roofing products as a problem. And although this has been a long-standing issue in relation to flat roofing, it is not something that is openly discussed or addressed by those working in the sector.
However, it is crucial this changes as utilising various products within different systems can lead to unpredictable and untested results – inevitably causing problems and failures down the line.
A quick fix
Fortunately, there is a simple solution – contractors need to take a full system approach, which includes a membrane, adhesive, tape and primer.
Quite simply, using a system where all products are purchased from one source and designed to work together harmoniously makes the resulting performance reassuringly predictable. Things are designed and made to go together, and this is no different for a roofing system.
In an increasingly difficult and competitive market, this type of guarantee can go a long way to strengthen reputation, as well as aiding traceability.
In addition to utilising industry-proven systems, ensuring the products have a CE mark and BBA certificate are essential to delivering a high standard of installation. These industry recognised markers of quality protect the contractor if there is a fire or a warranty claim is required.
While contractors may feel that keeping to tried and tested favourites is less of a risk, it potentially means missing out on innovative solutions that will deliver better results or a more efficient installation.
However, a full system from a reputable brand will usually mean the inclusion of a warranty, which will go towards mitigating any risk they may feel at trying out a new set of products. For example, Permaroof offers a 20-year membrane warranty with every installation by a registered installer.
This slideshow requires JavaScript.
Keeping on top of training
As an industry, we need to push for anyone purchasing roofing products to fully understand their capabilities and how they are used.
Purchasing a system from a single brand increases the chance of there being training and technical support to, again, support the highest possible installation standards.
As the UK operator of the National Training Centre for Firestone RubberCover, this is something we take seriously and have seen the positive benefits of offering to merchants and contractors first-hand.
Once contractors are using full systems and seeing the benefits for themselves, it is worth reiterating that this approach needs to be followed – even if the type of project changes.
For example, I have seen those who go from domestic to commercial projects be easily lured back into using a mix of products.
My warning is that domestic and commercial projects are completely different animals with many variances.
The assurances and quality of finish that taking a full system approach delivers still applies and so contractors should remain conscious of that fact when discussing requirements with a merchant.
Raising standards
The reputation of the roofing industry, and flat roofing in particular, has always been inconsistent.
For me, this is why contractors must use proven full systems whenever possible, making the most of the training and technical assistance that's on offer, to prevent against potentially damaging performance issues and delivering the best possible result.
Permaroof is the UK's leading importer and distributor of Firestone RubberCover roofing products. For further information on Permaroof UK, please visit www.permaroof.co.uk.