Traditional bathrooms go back to the golden age of interior decor. They have remained at the forefront of luxury bathroom design for decades. It is easy to understand why. A traditional bathroom is more opulent than a contemporary bathroom and features bold and elaborate touches.
Graeme Borchard MD of UK Bathrooms, the UK's leading online retailer of premium brands, explains what a traditional bathroom is: "traditional bathrooms are timeless and elegant, they will not date or go out of fashion. Full of character, a classic, traditional bathroom pays homage to a historical period, such as Edwardian or Victorian. Clean lines, soothing spaces and a welcoming, charming aesthetic typifies a traditional bathroom. A space that you can enjoy for the years to come."
Is a traditional bathroom right for your home?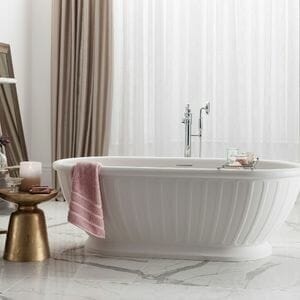 The Edwardians were some of the first to build homes with the invention of a room dedicated to washing and bathing. These period homes are full of character with high ceilings, large windows, alcoves and original fireplaces. While these original features help form the traditional bathroom look, it is possible to create a traditional bathroom in a contemporary new build or apartment. Start by drawing a layout or diagram of your planned new bathroom, include the position of the bathroom door and any windows or fixed features.
How do you style a period bathroom?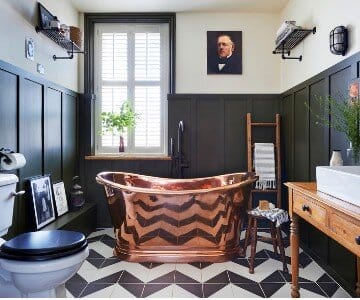 When it comes to styling a traditional or period bathroom then allow consideration to the surfaces. Use natural materials such as stone, slate or granite. Choose wall and floor tiling that leans towards a vintage look with subway or hexagonal tiles. Mix and match eras but keep the look clean and simple for a more visual appeal. Use a patterned, statement tile on your floor, such as Origins White Compass Star Pattern Tile to create a unique art deco style. Origins Glazed Long Metro Tiles on your bathroom walls are an iconic yet easy-to-maintain option.
Traditional Furniture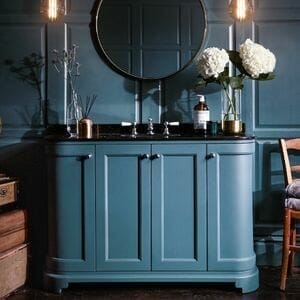 When choosing furniture again opt for a more natural material. Wood is typically used for period vanity units and a beautiful high-end painted unit will create an incredible focal point in your room. The iconic Burlington 1340mm Curved 4 Door Vanity Unit will set the scene in your new traditional bathroom. This is a stunning piece of furniture which oozes classical elegance. Choose from Black Granite, Carrara White Marble or White worktop indicative of a bygone era. The vanity unit is available in a choice of four colours with a matt white option that you can customise to co-ordinate your bathroom design.
Traditional basin and washstand
A beautiful washstand can be a stunning alternative to a vanity unit or basin with a pedestal. The Vitra Valarte Basin and Washstand is a Victorian beauty. Its design embodies the quintessential traditional washroom. The chic sink sits on top of the elegant polished chrome washstand frame. This has a front towel rail built into the design and a convenient shelf, ideal for storage.
Traditional bath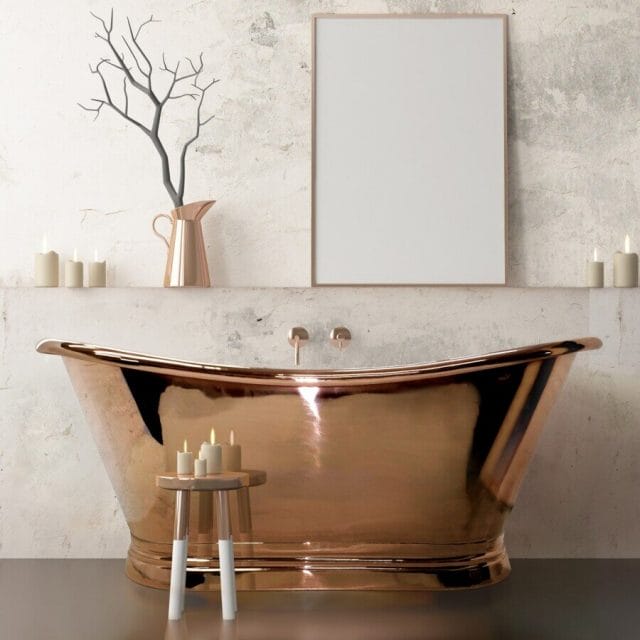 If you have space choose a beautiful freestanding bathtub. Nothing says traditional as much as a roll top bath. Victoria and Albert Richmond Freestanding Bath has a timeless art-deco feel. The standard Gloss White finish it is a true statement piece. For an incredible focal point opt for the RAL Colour Service available to choose your own colour.
Taps and showers

Traditional bathrooms need period styled brassware. Crosswater' Belgravia Collection is elegant and understated, a perfect pairing to yesteryear and available in a wide range of products. From Bath Pillar Taps to a Cross head Bath Shower Mixer in chrome, nickel or unlacquered brass finish. For an ultra-coordinated look match with Crosswater Belgravia Thermostatic Shower Kit. This shower kit features modern day technology and innovation with a classical look. The valve has two controls and is easy to operate for the whole family.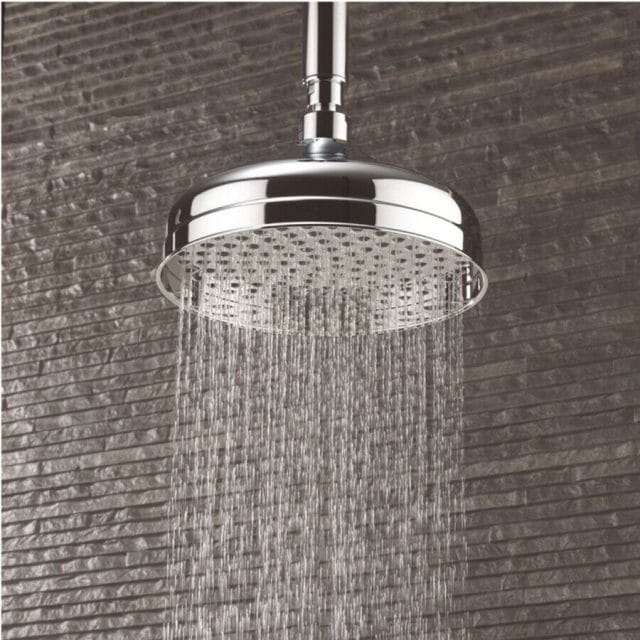 Toilets with tradition

Capture the spirit of a bygone age with a traditional toilet. With a plethora of choice available from wall mounted to high level cisterns, the only thing to check is your plumbing requirements. The Burlington Low Level Toilet comes with a choice in position for the pan outlet so check this with your installer first. This period piece also has the option of a ceramic cistern lever or push-button mechanism. Seats are available in rich dark mahogany, warm oak or white.
What is the best colour scheme for a traditional bathroom?

Adding colour to your traditional bathroom is where you get to use your creative side. Opting for a beautiful botanical wallpaper can make a striking aesthetic to your bathroom. If you have high ceilings and a plethora of natural light choose a bold and bright colour scheme, or opt for a darker colour for a more dramatic impact. Green is a colour renowned for its calming qualities. It exudes a sense of balance and harmony perfect for any bathroom space. Decorate your walls with green-inspired hues such as pale pistachio, mint pastels and soft sage to dark forest tones. Choose panelling to walls, whilst they will need painting, they will look amazing and befitting of your new traditional space.
If green isn't your favourite on the pantone chart, then consider dark blue walls to create an elegant, stylish appeal.
An authentic period space with an abundance of original features will allow you to keep your walls and floor neutral and the features to stand out. This will create a charming and welcoming bathroom where you can relax and unwind.